May News
The Odour Buster Team attended its first large pet show of the year. From April 14-16, we were at the Spring Canadian Pet Expo in Toronto!
Because we believe in supporting the community, we often raise funds during pet expos. The charity we chose to support at the Spring Pet Expo was the Canadian Federation of Humane Societies (CFHS).   We are pleased to announce that we raised $1000 with your help! We extend our sincere thanks to everyone who made a donation at our booth.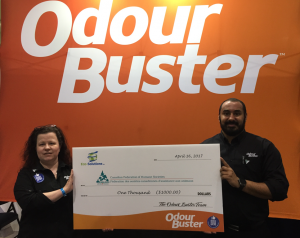 Where we will be next
Each year, the team attends industry trade shows across Canada to meet new colleagues, keep in touch with the industry, and promote Odour Buster.  Meet us at the next event!
June 4-5: Western Canadian Pet Industry Trade Show, Calgary
August 20-21: Expo-Zoo, Drummondville
Keep in touch with us on Instagram!
The team launched a new Instagram account to help keep in touch with you when we attend events! Follow us on Instagram!
Coming soon! A new Facebook Contest!
The team is planning a new contest that will be open to all residents of Canada! Don't miss it,  follow us on Facebook!